A new group of cross-party MPs and Lords was launched in Parliament last month – Parliamentarians for Agroecology – which is designed to build on efforts to advance agroecological approaches to food and farming in UK policy.
Parliamentarians for Agroecology (P4A) replaces the previously registered All-Party Parliamentary Group (APPG) on Agroecology for Sustainable Food and Farming and is the only group in Parliament to actively promote sustainable food and farming.
The group will seek to champion key subjects, from soil health and climate change to biodiversity loss and animal welfare, advancing support and awareness on issues facing agroecology.
The group's first in-person event was a briefing session for MPs and Peers in the House of Lords, titled: 'Agroecology and the Farming Transition – agroecological farming models and how agroecology works with ELMS'. Parliamentarians attending were able to hear from a panel of farmers practicing agroecological farming and representing leading farming organisations across the country.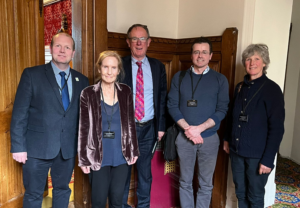 Robert Lingard, Secretariat for P4A, said: "This new group is a fantastic opportunity to re-energise the conversation around agroecology in Parliament and engage a whole new network of support. It reflects the ongoing interest in the topic and is testimony to the sterling efforts of parliamentary champions such as Lord Teverson, that the group has been able to come together and continue to build on the work of the APPG before it."
Robert Fraser, Executive Director of the Real Farming Trust and Herefordshire livestock farmer, added: "It was a pleasure to speak before the group at this inaugural event and to share my own farming story, as well as the work of the Real Farming Trust. We discussed a number of issues that farmers, particularly upland livestock farmers and new entrants, face and much needed policy changes and additional funding for the sector.
"Efforts to advance agroecology remain vital in Westminster, as the UK continues to develop its post-Brexit farming policy. In this crucial phase, it's vital that small family farms, upland communities and agroecological producers are supported and environmental protections and standards aren't abandoned or lowered. This would lead to increasingly intensive agriculture."