Four community-focussed organisations have developed innovative ideas to tackle food poverty in Brighton, London, Edinburgh and Belfast as part of the Ready Healthy Eat partnership. Programme Manager Jade Bashford shares more.
Ready Healthy Eat was set up in March 2020 with the support of The National Lottery Community Fund to pilot, deliver and evaluate ways to provide nutritious ready meals to people at risk of food poverty.
Two and a half years in, and the project partners have demonstrated that nutritious meals can be produced, at scale – and that community projects are well-placed to engage people experiencing food poverty with the social and practical skills that change lives, and change communities.
Addressing food poverty
Brighton and Hove Food Partnership have set up 'Chop and Chat' social groups. People they support come and prepare the surplus fruit and vegetables for their dehydrator, which makes dried ready meal packs for people without well-equipped kitchens.
Edinburgh Cyrenians are training people at risk of homelessness in cooking skills. They have supported refugees to run cooking training sessions, to make meals from their home culture. People pay to attend the sessions run by the refugees, so there is an income to support future work.
"Each group of trainees has usually been very diverse and it is great to see everyone working as a team, smiling, laughing and feeling at ease with the other group members. We have had such a wide range of trainees in the course and watching people from different backgrounds such as BAME, LGBTQ, refugees, local Scottish, older and younger, all working together without judgment or prejudice really mirrors the best in our local community.''
NOW Group in Belfast trains adults with learning difficulties in catering skills. They work closely with employers and run their own social enterprise cafés, so that the right conditions are in place for trainees to thrive in paid jobs. So far, 15 adults with learning difficulties are in paid employment.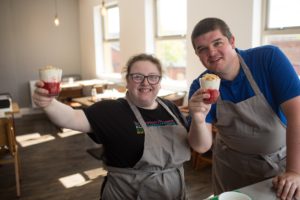 Hornbeam provides vegan meals using surplus food and local, organic ingredients. They have worked closely with their community to develop appealing recipes and run nutritional analysis on these, to ensure they are healthy. Meals are provided on a sliding scale, starting at £1. They offer a community café run by volunteers and trainee cooks where people can eat and chat together. Supported by the community, 9 of their kitchen trainees have gone on to work in other community food enterprises. One set up a mushroom growing business, another a successful food co-op, and one works as the cook in a homelessness charity.
How do we measure impact?
Coventry University is working with Ready Healthy Eat partners to measure the social impact of this work. Researchers run evaluation workshops, where practitioners from other organisations learn from practice in Ready Healthy Eat. You can read more about the results in our latest project update. The next workshop will bring together diverse projects that use surplus food, in order to understand supply chains and opportunities in this sector.
Photos
Top: Adults with learning difficulties learn catering skills with NOW Group in Belfast to support them in finding and staying in paid employment. Credit: NOW Group
Other photos: Thank you to Brighton & Hove Food Partnership, Hornbeam (Alexandria Hall), Cyrenians, NOW Group.